Péter Esterházy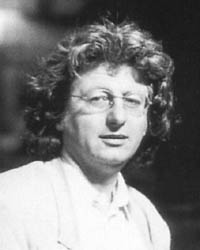 Péter Esterházy was born in 1950 in Budapest. A descendant of a famous Hungarian aristocratic family, he studied mathematics and since the 70ties he has won public acclaim with his witty, imaginative and stylistically brilliant short novels, stories, essays and drama. "Esterházy s formal experimentation has been the dominating feature of his work since the publication of A Novel of Production in 1979, and since then the diversity of his output has signalled a continuing and fundamental restlessness with the novel as a genre" (TLS 1977). His other works include Suspended (1981), Little Hungarian Pornography (1984), Modal Verbs of the Heart (1985), The Book of Hrabal (1990) and his latest She Loves Me (1995). In 1996, Péter Esterházy was awarded a prestigious Kossuth Prize.
The Book of Hrabal (part)

Sometimes when I get up, when I begin to surface from my sleepy torpor, the whole place hurts, my entire room, the view from the window hurts, the children going to school, people going off to buy their groceries, they all have some place to go except for me, I have no place to go, I get dressed in a daze, reeling, skipping on one foot, stepping on my pants as I pull them on – this is what you write, Bohumil, and that you don't like looking at yourself in the eye any more, that by now even the sight of your own self hurts, and you are horrified by what you see in the bathroom.