Erich Hackl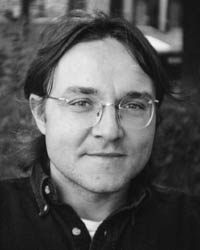 was born in 1954 in Steyr, Austria. After studying in Salzburg and Malaga he lectured at the universities of Madrid and Vienna. He published his first work of fiction Aurora's Motive in 1987, and it went straight into the best-seller lists and won the annual award for the best first novel 'Aspekte-Literaturpreis', establishing him as one of the most exciting new German writers. His TV screenplay Sidonia Adlersburg was awarded the 'First Grand-Prix Geneva'. He now lives as a writer, journalist, editor and translator with his family in Vienna.
Farewell Sidonia (part)

As Cecilia Grimm was to report decades later, the girl soon calmed down and sat back, talking quietly to her doll. The long journey passed without incident. Most of the time she and the child were alone in the compartment. In Attnang-Puchheim, however, a woman boarded and sat down with them. The woman immediately unpacked food and unceremoniously began to eat, without offering anything to her fellow passengers. In that time of shortages she had thick slices of sausage that she systematically stuffed into her mouth and swallowed. Throughout this the woman, who must have weighed close to two hundred pounds, stared at the child. Finally, between bites, she pointed to Sidonia with her knife and snorted: But this child is black. And when Grimm didn't say anything, she added: Such a black little thing. At that, and to cut any conversation short, Grimm responded curtly and coldly: Because she's out in the sun so much. But the other woman would not be shut up, she had to add one final comment: Oh really, in winter? Grimm had nothing to say to that, and the woman got off in Salzburg, thank God.