Ingo Schulze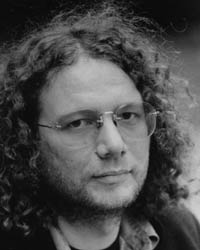 was born in Dresden in 1962. He studied classical philology at the University of Jena, then worked as the dramaturge at the Altenburg Theater until 1990, and after that became a newspaper editor, a job that took him to St. Petersburg for six months in 1993. "The special air he breathed must have been rich with the local ferment of fantasy, for he has turned the whole mix into literature fascinated by life and all its mad manifestations." 33 Moments of Happiness (1995) received the Döblin Prize and the Willner Prize for Literature. Simple Storys (1998) has been hailed as "the long-awaited unification novel." Schulze lives in Berlin.
33 Moments of Happiness (part)

On my way to the hotel bar I spoke to her, and so we entered as a couple. Maria grew livelier and even more beautiful. She had in fact been waiting for me. The bartender ignored other guests to serve me, and within Maria's line of sight, I returned to our table full of success and without sloshing a drop from the glasses. Her fingers got absentmindedly tangled in the silver chain above her décolletage, and her long nail drew streaks across that incredible skin, which re-emerged no less pure from under her red dress just above the knee. I lit her cigarette for her with her lighter so that she would not be distracted from what she was saying about Margarita and Lolita, about the difference between Zoshchenko's and Platonov's use of language, and my palms lay flat on the table while she recited Pushkin and Brodsky as if she were planning a menu according to the vintage of the wines.